Veterinarians
Dr. Mark Sargent

DVM
Oregon State University / Washington State University, DVM 1984
Mark Sargent was raised in Central and Eastern Oregon, graduating from Heppner High School. In 4-H, Mark's primary project was sheep, having a flock of ewes and raised lambs each year. Due to a strong interest in why his lambs would get sick, he decided to become a veterinarian. After graduating from veterinary school, Dr. Sargent joined the Oregon Trail Veterinary Clinic as a mixed animal practitioner. He has recently been spending a greater amount of time in small animal practice, taking special interest in dermatology, senior care, and dentistry. In his off-time, Mark enjoys Bible studies, volunteering at his church, white water rafting, and home improvement projects.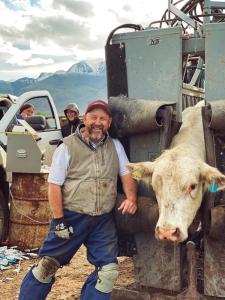 Dr. Brent Barton

DVM
Oregon State University / Washington State University, DVM 1988

In 1988, Brent Barton graduated from Veterinary School at Oregon State University. From 1991 to 1993, he served in the US Army Veterinary Corps, as a part of Operation Desert Storm. Dr. Barton has had mixed animal practice experience previously in Burns, Oregon and Three Forks, Montana. The most important things in his life are faith, family and or course fun. He enjoys spending time with his family fishing and doing other outdoor activities. When it comes to veterinary medicine, Dr. Barton is especially interested in small animal medicine, ultrasonography, equine critical care, bovine reproduction, draught horses and senior dog and cat care. Dr. Barton has 3 cats and 2 dogs, a mule, two horses, and a few pet cows at home.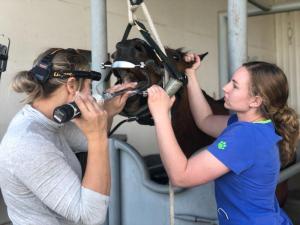 Dr. Jana Parks

DVM, CVA
Oregon State University, DVM 2016

Dr. von Borstel grew up on a wheat and cattle ranch in Grass Valley, Oregon. Growing up on a ranch allowed Jana to develop a strong passion and background for working with cow/calf operations, working ranch horses and all manner of pets. Jana attended Oregon State University for her undergraduate studies receiving an Honors Bachelor of Science in Animal Science. She continued on at OSU to receive her Doctorate in Veterinary Medicine and she also received certification in acupuncture for both small as well as large animals via the Chi Institute in Florida. After receiving her DVM, Jana worked at a mixed animal clinic in Goldendale, Wa. Jana and her husband live in Hermiston and enjoy running their own cattle