Staff
Sara Shoemake

Practice Manager
Sara was born in Dallas, OR and grew up here in Hermiston. Sara joined the OTVC family in Oct. of 2006 where she started as a Veterinary Assistant and quickly moved on to Technician training. From there she started expanding her knowledge and diversity and took over Inventory control as well as Head Tech and is now the Practice Manager and oversees and manages the whole clinic. She loves animals…ALL of them. She has horses, a miniature horse, miniature donkey, chickens, rabbit, cats, dogs, goats and a husband. She enjoys breeding, raising, and training her horses, and horseback riding. She is a member of Umatilla Sage Riders and enjoys competing in Ranch Sorting and Team Penning. She is also involved with Special Olympics where her brother was a very active team member and she enjoys singing on her churches worship team. OTVC is her home, "I love my OTVC family because that is truly what we are, a family. I could never dream of working anywhere more fulfilling"
Certified Veterinary Technicians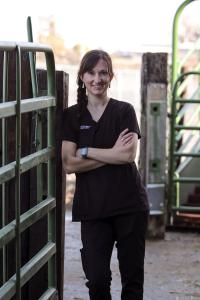 Joellyn Herriman

CVT
Joellyn grew up in La Grande, OR. She went to Eastern Oregon University and received her Bachelor's in Agricultural Business Management through OSU. While there, she was on the Collegiate Polo Team all 4 years. After graduating, Joellyn spent a year in Kentucky working on a thoroughbred horse farm and working at Hagyard Equine Medical Institute. These experiences spurred her into pursuing a degree in Veterinary Technology through Yakima Valley Community College. Joellyn joined the OTVC family in 2011. In her off time, Joellyn and her husband enjoy white water rafting, hunting, horseback riding, and volunteering at their church, They have a beautiful energetic and talkative son Wyatt and welcomed a new baby boy in April 2020.
Technicians
Jessica Kooch

Technician/Inventory
Jessica is from Wallowa county and her passion in the veterinary field began on the family farm where they raised pigs, cows and Clydesdales. Her family moved to Umatilla county when she was young while her mother pursued her nursing career. She started her veterinary career in Pendleton but found her "home" at OTVC. She is working hard on her Technician Certification and hopes to graduate from the program soon. In the clinic she is dubbed the "cat whisperer" as she has a unique way with some of our most timid feline patients. She enjoys spending time with her own cats (one plays fetch!), crafting, camping and spending time with friends and family.