Staff tool for longer bios. Single column of bios, with floated image to the left.
Options are:
full bio displayed or excerpt with more/less toggle,
rounded or squared images,
optional staff category buttons to jump down page.
---
Assistants
Inventory Management
Cynthia Betancourt

Inventory Manager
Receptionists
Leandra Diorio

Reception/Assistant
Leandra joined OTVC in 2021 with a background in customer service and enjoys being able to help people and their pets. Leandra grew up the biggest animal lover and she and her grandmother would often help give strays a home. Animals have always been a big part of her life, from mice and dogs to cows and horses. She loves them all and aspires to be their hero when no one else will or can. Leandra and her husband have a number of pets that are like their children. When she's not helping a client she can be found painting, drawing or occasionally going horseback riding.
Danielle Walchli

Receptionist
Jakki Long

Senior Receptionist
Jakki Long was born and raised in Hermiston, OR. She has always had a passion for helping animals. Growing up, she was often taking in stray dogs and cats, pet sitting for neighbors, and helping her family breed and raise Labrador Retrievers. She always knew she wanted a career in veterinary medicine and in 2006 she got an opportunity to fill an internship position at OTVC. Afterwards, she was trained to be a veterinary technician. In December 2009, she took on a new position as our receptionist and that's where she really found her place. As a mother of two, Jakki enjoys spending time with her family from kayaking and fishing to swimming and bbqing. "Being OTVC's receptionist is the best job in the world! I love being able to interact with not only the pets, but their owners as well and build some wonderful relationships that I will always cherish."
Veterinarians
Dr. Mark Sargent

DVM
Oregon State University / Washington State University, DVM 1984
Mark Sargent was raised in Central and Eastern Oregon, graduating from Heppner High School. In 4-H, Mark's primary project was sheep, having a flock of ewes and raised lambs each year. Due to a strong interest in why his lambs would get sick, he decided to become a veterinarian. After graduating from veterinary school, Dr. Sargent joined the Oregon Trail Veterinary Clinic as a mixed animal practitioner. He has recently been spending a greater amount of time in small animal practice, taking special interest in dermatology, senior care, and dentistry. In his off-time, Mark enjoys Bible studies, volunteering at his church, white water rafting, and home improvement projects.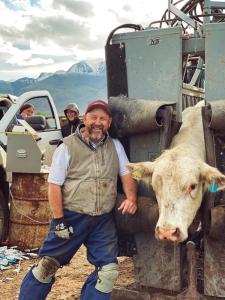 Dr. Brent Barton

DVM
Oregon State University / Washington State University, DVM 1988

In 1988, Brent Barton graduated from Veterinary School at Oregon State University. From 1991 to 1993, he served in the US Army Veterinary Corps, as a part of Operation Desert Storm. Dr. Barton has had mixed animal practice experience previously in Burns, Oregon and Three Forks, Montana. The most important things in his life are faith, family and or course fun. He enjoys spending time with his family fishing and doing other outdoor activities. When it comes to veterinary medicine, Dr. Barton is especially interested in small animal medicine, ultrasonography, equine critical care, bovine reproduction, draught horses and senior dog and cat care. Dr. Barton has 3 cats and 2 dogs, a mule, two horses, and a few pet cows at home.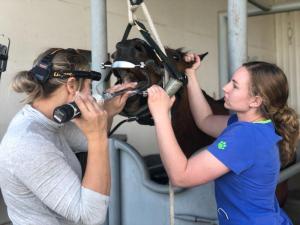 Dr. Jana Parks (von Borstel)

DVM, CVA
Oregon State University, DVM 2016

Dr. von Borstel grew up on a wheat and cattle ranch in Grass Valley, Oregon. Growing up on a ranch allowed Jana to develop a strong passion and background for working with cow/calf operations, working ranch horses and all manner of pets. Jana attended Oregon State University for her undergraduate studies receiving an Honors Bachelor of Science in Animal Science. She continued on at OSU to receive her Doctorate in Veterinary Medicine and she also received certification in acupuncture for both small as well as large animals via the Chi Institute in Florida. After receiving her DVM, Jana worked at a mixed animal clinic in Goldendale, Wa. Jana and her husband live in Hermiston and enjoy running their own cattle
Dr. Robert Thonney

DVM
Washington State University, DVM 2014
Dr. Thonney is originally from Prosser, WA where he grew up on a small cattle ranch. He and his father ran Limousin cross cattle, and he showed cattle all over the Pacific Northwest. Robert was involved in 4-H and FFA, showing both sheep and steers at local fairs and participating in career development events at the state and national levels. After graduating from Prosser High School in 2007 he majored in animal sciences at Washington State University and graduated from the WSU College of Veterinary Medicine in 2014. After graduation, he practiced in Lewiston, Idaho where he focused on cow/calf production medicine and equine general medicine, including equine reproduction and lameness. When Dr. Rob is not doing veterinary related things, you can probably find him bird hunting, working on a carpentry project or watching Cougar football.
Staff
Sara Shoemake

Practice Manager
Sara was born in Dallas, OR and grew up here in Hermiston. Sara joined the OTVC family in Oct. of 2006 where she started as a Veterinary Assistant and quickly moved on to Technician training. From there she started expanding her knowledge and diversity and took over Inventory control as well as Head Tech and is now the Practice Manager and oversees and manages the whole clinic. She loves animals…ALL of them. She has horses, a miniature horse, miniature donkey, chickens, rabbit, cats, dogs, goats and a husband. She enjoys breeding, raising, and training her horses, and horseback riding. She is a member of Umatilla Sage Riders and enjoys competing in Ranch Sorting and Team Penning. She is also involved with Special Olympics where her brother was a very active team member and she enjoys singing on her churches worship team. OTVC is her home, "I love my OTVC family because that is truly what we are, a family. I could never dream of working anywhere more fulfilling"
Certified Veterinary Technicians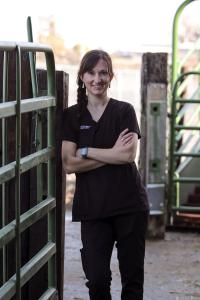 Joellyn Herriman

CVT
Joellyn grew up in La Grande, OR. She went to Eastern Oregon University and received her Bachelor's in Agricultural Business Management through OSU. While there, she was on the Collegiate Polo Team all 4 years. After graduating, Joellyn spent a year in Kentucky working on a thoroughbred horse farm and working at Hagyard Equine Medical Institute. These experiences spurred her into pursuing a degree in Veterinary Technology through Yakima Valley Community College. Joellyn joined the OTVC family in 2011. In her off time, Joellyn and her husband enjoy white water rafting, hunting, horseback riding, and volunteering at their church, They have a beautiful energetic and talkative son Wyatt and welcomed a new baby boy in April 2020.
Technicians
Jessica Kooch

Technician/Inventory
Jessica is from Wallowa county and her passion in the veterinary field began on the family farm where they raised pigs, cows and Clydesdales. Her family moved to Umatilla county when she was young while her mother pursued her nursing career. She started her veterinary career in Pendleton but found her "home" at OTVC. She is working hard on her Technician Certification and hopes to graduate from the program soon. In the clinic she is dubbed the "cat whisperer" as she has a unique way with some of our most timid feline patients. She enjoys spending time with her own cats (one plays fetch!), crafting, camping and spending time with friends and family.